99% Efficient 3-Phase PFC Rectifiers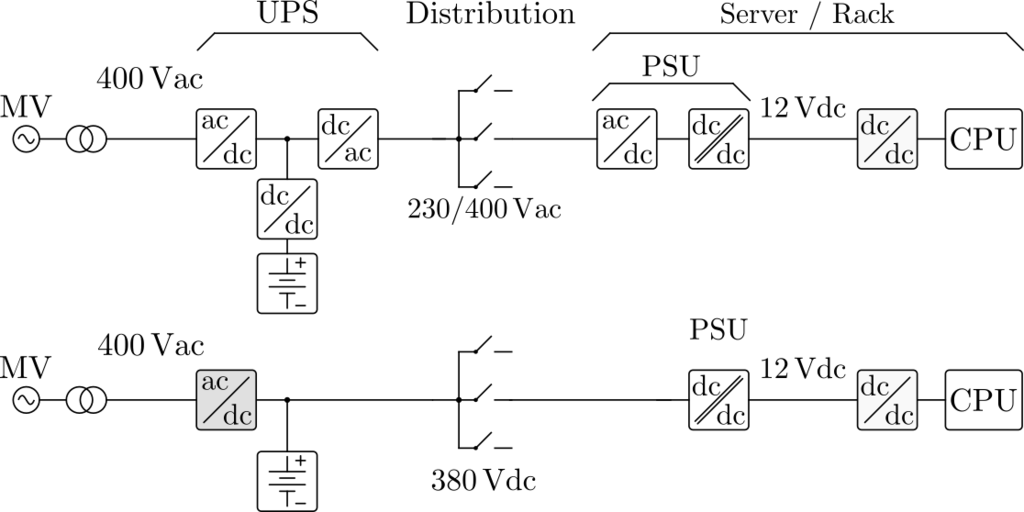 Minimizing Life Cycle Cost in
Data Center Power Distribution
The world's data centers consume an estimated 300 TWh of electricity each year, which is about five times Switzerland's annual consumption. In conventional ac data centers with an online UPS, five conversion stages exist between the ac mains input and the IT load (CPUs, memory, hard disks, etc.) and up to 50% of the total consumption is caused by conversion losses and the required cooling.
Significant reductions in losses, cost, rack space and improved reliability can be achieved using 380 V dc power distribution. In this case a Power Factor Correction (PFC) rectifier is required, which supplies the dc bus from the three-phase ac mains and achieves sinusoidal input currents. These rectifiers are also well suited as fast charger for electric vehicles. If total cost of ownership is considered, it can be shown that conversion efficiencies of 99% are economically feasible for 24/7 operation.
In his Ph. D. thesis at the Power Electronic Systems Laboratory at ETH Zurich, Lukas Schrittwieser designed ultra-efficient isolated and nonisolated three-phase PFC rectifiers with buck-type characteristic. Unlike standard boost-type systems, these can produce a dc output voltage between 0 and 480 V dc from a conventional 400 V rms three-phase mains in a single conversion stage.
A picture of a nonisolated 8 kW prototype SWISS rectifier is shown in Figure 2. It Utilizes commercially available 1200 V SiC MOSFETs, hard switching at 27 kHz, and a novel interleaving transformer with integrated common mode inductor. With a volume of 2 liters, it achieves a power density of 4 kW/l. The calculations and measurements results plotted in Figure 3 confirm a very high full-load efficiency of 99.16% and a peak efficiency of 99.26%.
The picture in Figure 3 shows a prototype of an isolated three-phase ac to 400 V dc PFC, designed for the highest possible full-load efficiency. It uses state-of-the-art 900V SiC MOSFETs in an advanced circuit topology that uses a direct matrix converter to power the primary side of a dual active bridge. To reduce losses, a sophisticated modulation and control scheme is implemented on a Xilinx ZYNQ 7000 SoC, which achieves soft switching. It uses a 3D lookup table with precomputed switching times that are optimized for minimal conduction losses under all operating condition.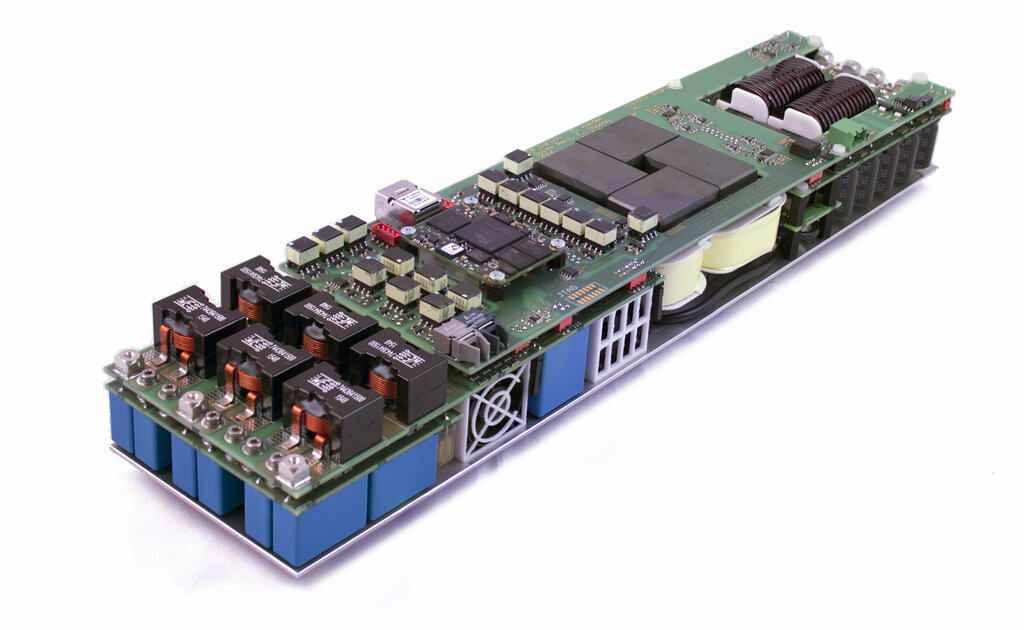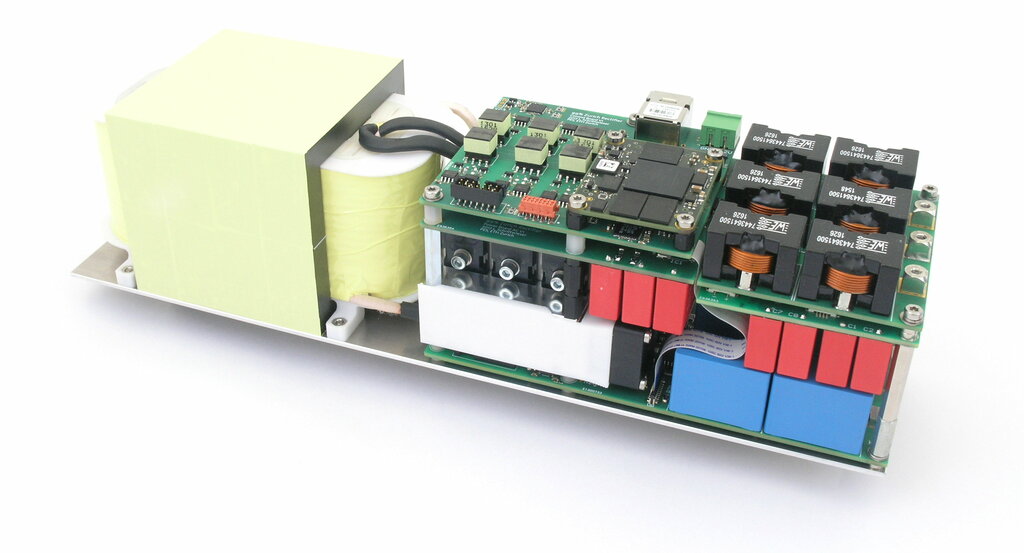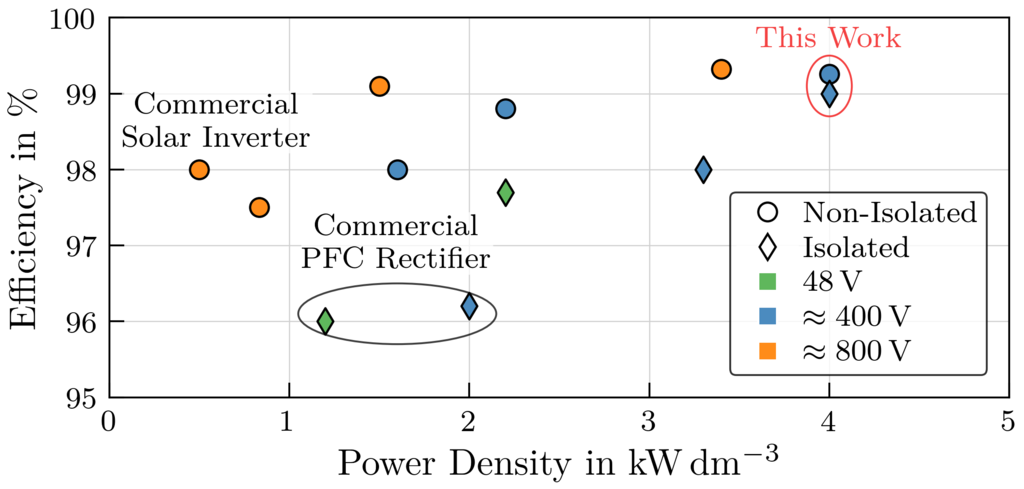 The markers in the plot on the left show measured conversion efficiencies for two mains voltages and different output powers. Very high efficiencies >99.0% are achieved for nominal input voltage and output powers larger than 5 kW. However, due to an increased reactive power demand of the transformer, the efficiency decrease at low input voltage and/or low output power is more pronounced than in the nonisolated converter shown above.
A comparison in terms of volumetric power density and efficiency of differnt PFC rectifiers and inverters is shown in Figure 4. This includes commercially available systems as well as prototypes reported in scientific literature. It can be seen that the systems desigend and implemented in this project achieve an outstanding combination of high power density and ultra-high efficiency, thereby reducing conversion losses and saving rack space at the same time.